About Electrolysis
What's electrolysis?
Electrolysis is a method of removing individual hairs from the face or body. It is currently the only FDA-approved method for permanent hair removal. Using state-of-the-art technology, a minute amount of electricity is gently applied to the base of the hair follicle.
This process destroys the hair growth tissue. Therefore, the regenerative ability of the hair follicle is permanently eliminated.
What causes unwanted hair growth?
Hair growth is the result of heredity and hormone levels. Also, some drugs, temporary methods of hair removal, and illnesses can stimulate hair growth. Electrolysis may be an option when hair growth is in an area of the body where it may not be desired such as on a woman's upper lip, chin, or bikini line.
Can unwanted hair be removed anywhere on the body?
Electrolysis works on all skin and hair types. It can be applied to most facial and body parts, including: eyebrows, chin, upper & lower lip, jaw line & sides of the face, breast & underarms, abdomen, bikini line, legs and back. Based on a personal and confidential consultation, your electrologist will design a treatment plan that addresses your specific hair removal needs.
Note: An Electrologist may treat patients with certain conditions if he/she first obtains written authorization to do so from the patient's physician.Such conditions include but are not limited to:
Diabetes mellitus
Hair in moles
Medical conditions for which the patient wears any external or implanted medical object or device
Medical conditions that are treated with drugs having anti-coagulant effects
Medical conditions treated with drugs that may create photosensitivity
Benefits of Electrolysis
Electrolysis is the ONLY treatment option that's approved by the FDA for Permanent Hair Removal! Unlike laser, which targets the pigment of hair, electrolysis targets the hair follicle itself.
Electrolysis is safe and effective for ALL types and colors of skin and hair. Because it works at the follicle level, it's an "equal opportunity hair remover". Grey, blond, dark, fuzzy, course, ingrown, or any other type of hair can be completely and permanently removed with electrolysis treatment.
See the chart below to understand more benefits of choosing Electrolysis over other hair removal methods: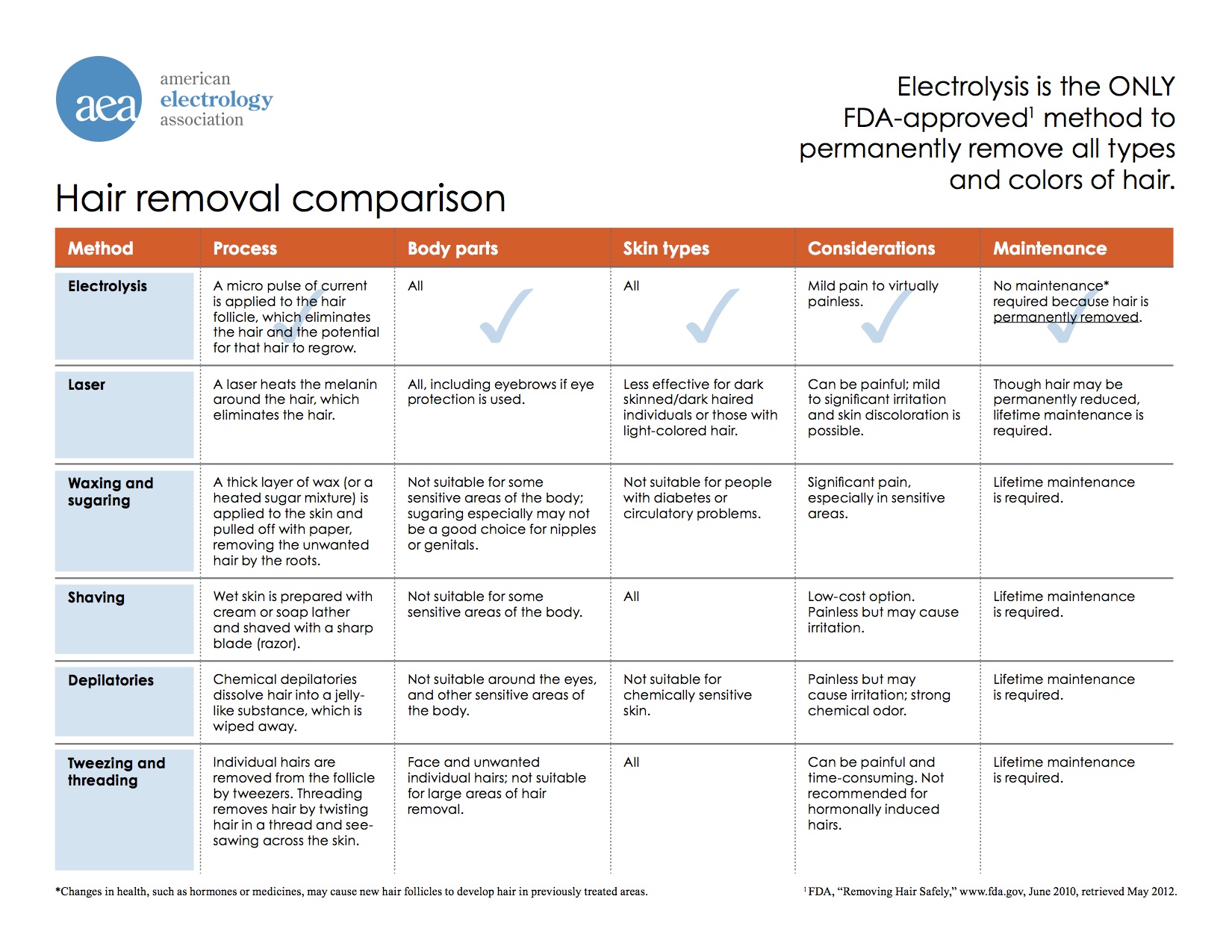 Electrolysis After-Care
Following your treatment, do not touch or scratch the area treated!
Wear mineral makeup, if cover up is needed.
Avoid perfume or alcohol-based products. They will dry out your skin. You can wipe the area with witch hazel, if needed.
Apply Bacitracin, Neosporin or another antibacterial cream to the treated area the night after your treatment. This will help your skin heal even faster, especially facial areas. Apply with Q-tips or clean hands. If your skin is still irritated on the second day, apply a Hydrocortisone cream (Cortisone, Cortaid, anything with 1% hydrocortisone or hydrocortisone acetate). It is anti-inflammatory and will reduce redness and swelling. Also works on pimples!
Avoid excessive sweating if having work done below the neck. Sweat can cause bacteria to enter into the open follicles and cause minor infection. Exercise before your electrolysis appointment instead of afterward.
ALWAYS WEAR SUNSCREEN.
If small scabs appear, do not scratch them away. This can cause scarring. Allow them to fall off naturally. This is nature¹s way of healing the follicle that we have treated. (the scabs are lymph fluid that has drained out the follicle and dried up) Keeping the area moisturized will often curtail the formation of scabs. If discomfort should occur in closely treated areas apply an Epsom salt compress: Add 1 tsp. Epsom Salt to 1/2 cup warm water, mix and soak up with a washcloth. Lay washcloth over treated area for 10 minutes and repeat until discomfort subsides.
If you are prevented from coming in as soon as you would like for your next treatment, DO NOT TWEEZE! The offending hair can be clipped off with small scissors or shaved.
Remember: Some re-growth is to be expected. If you will return when the first re-growth occurs, the roots are shorter and weaker and therefore can be treated more effectively.
Transgender
If you are looking for a treatment to permanently remove facial hair and excess body hair as part of gender reassignment, electrolysis is the solution for you. It's the key to attaining the smooth, sophisticated, hair-free look you desire. Your electrologist understands the commitment necessary to make a gender transition and takes it as seriously as you do. It is important to ensure that your electrolysis treatments occur at the right point in your process and in a way that works with your health and long-term goals.
We are a proud member of Trans Club of New England and we get referrals from Planned Parenthood and Boston Children's Hospital.
📝 Electrolysis Client History Form
Check out our other services: