Customized Skin Care Treatments
Everyone can have healthy, beautiful skin!
We customize treatments for each individual based on age, skin type, pre-existing skin conditions and specialty needs.
Whether your skin is oily, clogged, dehydrated, mature, dull or just acting tired, a professional skin care treatment will benefit any skin type. For the most beneficial results please allow us to evaluate your skin and recommend a personalized skin care program. Lana will customize a skin treatment to meet your specific needs.
Led Light Therapy Facial
The ultimate facial solution combining four proven technologies to help achieve a clearer complexion, brighter and more even skin tone, and a youthful appearance.This facial treats various skin related conditions including: Clogged pores, Acne, Inflammation, Rosacea, Wrinkles, Sun damage & Hyperpigmentation.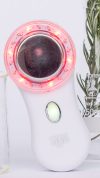 Red LED Light Therapy
Red light therapy waves have been shown to penetrate deep into the subdermal layers stimulating natural collagen production and skin rejuvenation, while helping to tighten the appearance of pores. Red light therapy has also been shown to aid in Increasing circulation and blood flow by helping bring more oxygen to the skin cells.
Blue LED Light Therapy
Blue LED has been clinically proven to be an effective acne solution. The Blue LED wavelengths have an anti-bacterial effect on skin, helping reduce oil secretion and inflammation, and kill the P. acnes bacteria which lead to acne formation. Studies have shown Blue LED effective in killing dermodex mite responsible for acne rosacea. Blue LED is anti-inflammatory and decreases cytokines.
Green LED Lights Therapy
Green light is a therapeutic wavelength that has anti-inflammatory properties. The wavelengths are primarily used for improving hyperpigmentation, promoting balance and reducing redness. Green light has been shown to have a calming effect on the skin. It can also brighten the complexion by helping to lighten areas of hyperpigmentation, freckles and age spots. At the same time, green light photo facials can soothe the skin's surface with its anti-inflammatory properties.
Key Light Therapy Treatment Benefits
Gently and deeply cleanses skin and pores
Exfoliates dead skin cells
Reduces redness after peels and microderm
Promotes cell renewal and shrinks pore size
Brightens skin and evens skin tone
Visibly plumps, tightens and firms skin
Improves appearance of fine lines and wrinkles
Enhances product penetration
Promotes more oxygen to cells

Facials For All Skin Types
Our facial treatments include thorough extractions and a relaxing massage of the face, neck, chest, shoulders, arms and hands.
Facials for Men
Facials for men are specifically formulated to male needs, which are often shaving-related, such as razor burn, or other conditions like skin sensitivity and dullness.
Teen Facials
Facials for teens are designed to specifically address adolescent skin care concerns.
Check out our other services: