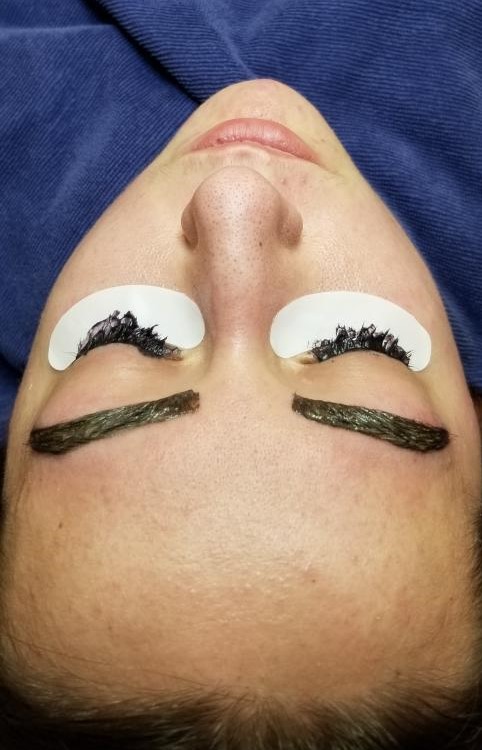 Tinting your Brows
By changing your brow color you can add depth and the illusion of thickness and dimension. Richer tones on your brows will help to "frame" your eyes, offering a more finished look to your face.
Invisible eye brows or brows that are just not quite dark enough can fail even the most perfect brow shape. Brow tinting can be the perfect solution as it helps to fill in the sparse areas and define the brow shape, while creating the illusion of thickness.
Tinting your Lashes
Tinting your eyelashes is a quick and easy solution for those who depend on mascara to darken lightly-colored lashes. This treatment is perfect for men and women with blonde, reddish or light brown hair that want more clearly defined features. Whether you want to wake up in the morning with your "eyes on" or forget about waterproof mascara during the summer time, you'll be thrilled with the results of eyelash tinting.
Aftercare Instructions
Do not touch or rub your eyes, eyelashes or eyebrows immediately after the treatment.
If redness or irritation occurs, apply a cool damp cotton compress to the eye area. If symptoms persist for more than 24 hours seek medical advice.
The effects of the tint will start to diminish within 2-3 weeks as hair grows out and the tint color fades. Strong sunlight/UV light can make the tint color fade faster.
Avoid washing your hair, eyelids, eyelashes, eyebrows, or swimming for 24 hours, as these activities can cause the tint results to fade. Also avoid exfoliating facial cleansers. Those containing AHA's or other chemical exfoliates may decrease the life of your tint. A gentle facial cleanser or eye makeup remover is recommended.
Do not apply makeup or mascara to lashes or receive any other eye treatments for at least 24 hours after the lash or brow tinting treatment.
Try to use oil-free facial products around the eye area to prolong the tint color.
You can receive the lash or brow tinting treatment every 3-4 weeks.
If you have any questions about your post-care, contact your salon/spa.
Check out our other services: